johnsher wrote:
In Gear wrote:
So which are your fave rides on this beauty?
well it's been put to good use over the alps and pyrenees doing 3 etapes du tour (see below).
Naturally my fave rides are in the Swiss Alps, Dolomites, Austria and Haute Savoie - and of course .. Dales, Lakes, Northumbria and good Co Durham
Have done one challenging set of rides in the Highlands - Glen Coe - Fort William area and another following a loop in the Grampians..
Quote:
I guess its main use is on various club rides around Surrey although I've also done a few races on it. That can be a little worrying though due to the lack of insurance.
I insured mine with Fortis .. gave me a reasonable quote.
Quote:
I'm currently hoping that the Etape du Tour de Grande Bretagne happens next year, failing that maybe a Gran Fondo is in order?
Did you see that piece in CW re Gran Fondo a few weeks back? Stunning photos...and a very down to earth and honest account written up by Dave Barler.
Quote:
I think I'll also have to do some riding oop North as it sounds far more relaxed and scenic than down this way.
We have some great rides around Durham...think I posted one up on here somewhere... and of course the Mad Cats are just spoiled for choice over in the Lakes.... but of course - I'm just across the A66 in reality ... and within easy reach even on a bike...
Quote:
If you're wondering how much fun you can have on pyreneean (sp?) climb check this out :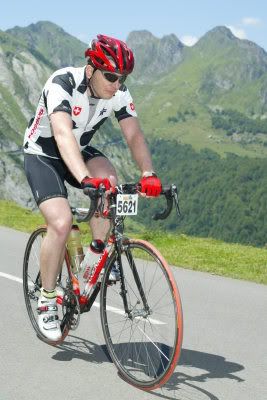 See how happy I look?
Now that's what I call riding....
_________________
Take with a chuckle or a grain of salt
Drive without COAST and it's all your own fault!
A SMILE is a curve that sets everything straight (P Diller).
A Smiley Per post
FINES

US

for our COAST!
Approach love and cooking with reckless abandon - but driving with a smile and a COAST calm mind.